We need to send the command usbsd to JeVois over a serial link to let it know that we want to export the microSD over USB. You can do that by first connecting to JeVois using a serial terminal and then typing this command. For example, use the Arduino IDE to connect, as done in Using the Arduino IDE (Integrated Development Environment) to talk to JeVois.
Here, since we only want to give that one command to JeVois, we can instead do:
hsv = cv2.cvtColor(inimg, cv2.COLOR_BGR2HSV)
lower_blue = np.array([80,50,50])
upper_blue = np.array([150,255,255])
mask = cv2.inRange(hsv, lower_blue, upper_blue)
outimg = cv2.bitwise_and(inimg, inimg, mask= mask)
Make sure your indentation is correct as Python is picky about that. The lines you paste in place of the old line 59 should be indented by the same amount as the lines immediatly above and below.
Here is the result (you need to show a blue object to JeVois, here we showed our favorite USB flash drive):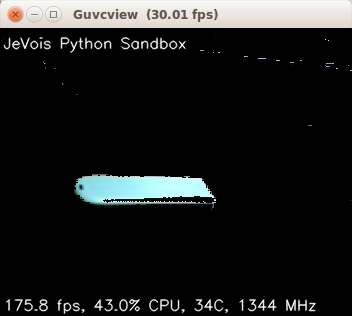 We now have something that is beginning to ressemble the basic color tracker of Tuning the color-based object tracker using a python graphical interface, in just a few lines of Python code.
Errors
As always, you can connect to JeVois using the serial-over-USB port and issue a setpar serlog USB to see any error messages that might occur if your code has mistakes.
In addition, we have worked very hard to add a new feature that displays these errors directly in the video stream. For example, insert the line:
      boo

say, at line 59. Then try to capture video from JeVois, you should see: